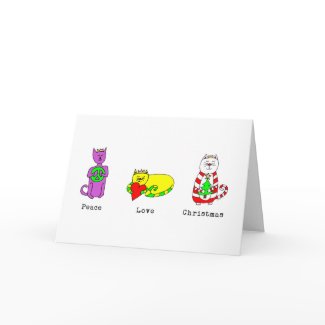 Today's card is my "3 Wise Cats" Christmas Card. It features my drawing of 3 Wise Cats, one holding a peace sign, one snuggling with a heart and one hugging a toy Christmas tree. Inside it reads, "Happy Holidays From Our Family To Yours" (or personalize with your own text).
Christmas is a fun time for cats but this can be somewhat challenging for the people they own. After many years of being trained by my feline children, I feel that I have learned a lot about the delicate combination of holidays and cats. Here are a few of my tips for new or frustrated Christmas cat trainees:
1. Two words: Shatterproof ornaments (note that this is not the same as a chew proof or claw proof ornaments). If you are really set on using glass ornaments, use them sparingly, set them high up on the tree and secure them to a sturdy branch with a pipe cleaner or floral wire (this is a good idea for all ornaments).
2. If you have kittens or especially mischievous cats, do not decorate the bottom third of the tree. As my cats get older, I am able to put ornaments lower but if you look closely you'll see what is there is slightly worn or tattered. In fact, I put a few "distressed" bows where my cat Motley can reach them so he can live up to his reputation as a bad boy without destroying anything new or valuable.
3. Either wrap your presents behind closed doors away from your cats or have plenty of "decoy ribbon" on hand. I save ribbon from my presents each year so that when wrapping time comes around I have plenty to distract idle paws with. I also have some retired gift boxes (boxes my cats destroyed on previous holidays) for my cat Isabelle to climb into.
4. Don't put any presents underneath the tree until the last possible moment. It really is best that all wrapped presents remain in a secure area until you want them to be opened. If you are worried about it looking bare underneath the tree, no worries, just put a tree skirt there and your cats will be happy to occupy the area for you.
5. Learn to enjoy or at least accept a little chaos. If you have been owned by cats for more than a few days, you have probably realized that nothing in your home or your life is ever going to be neat, orderly or cat hair free ever again. This is true during the Holidays as well. Your cats will eventually convince you that this is for the best. After all, they are perfect, so nothing else really needs to be.

I hope these tips help you and your feline rulers adoring feline children to have a safe and Merry Christmas.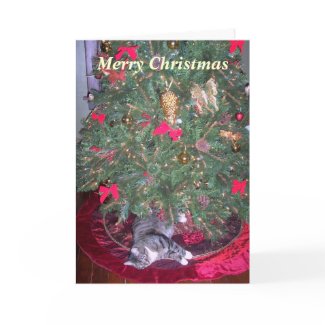 Cat Underneath The Tree Christmas Card
by
Victoreeah
Sell art
online at Zazzle.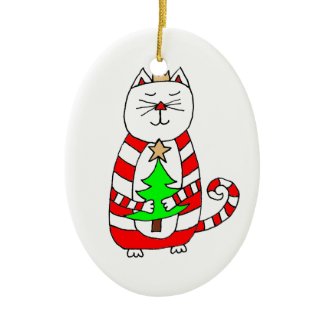 Christmas Cat
by
Victoreeah
Get an
ornament
from Zazzle.