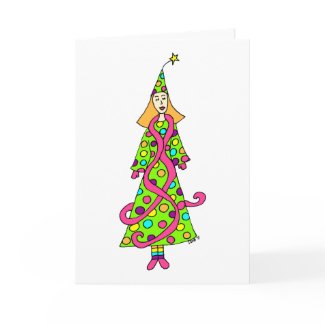 Today, I am featuring my "Holiday Dressing" Card. On the front is my drawing of a girl whose fashion ensemble resembles a very stylish Christmas tree and inside it reads, "Wishing You A Bright And Beautiful Season With All The Trimmings" (or change to your own text).
It is the weekend before Thanksgiving and my Hippie Husband and I have started doing some Christmas decorating. We won't turn on any lights until Thursday evening but I like to get a bit of a head start on these things. I must admit I am a bit of a control freak when it comes to decorating the Christmas tree in the front room of our home. I have a very strict color scheme and theme and there are no exceptions. However, in other areas of our house the decorating rules are less stern, especially when it comes to decorating Elvis.
That's right, I said decorating Elvis, as in Presley, the King of Rock and Roll. Hippie and I are big fans. We had an Elvis impersonator sing at our Vegas wedding, we went to Graceland for our 1st Anniversary and as an anniversary gift another year, my parents gave us a large ceramic bust of The King himself. It had a place of honor in our last home but we never could find a good place for it in this one. So every year around this time we place it on the counter separating our kitchen from the living room and decorate it with some sparkly garland, lights and a few ornaments. It stays up there through January 8th, The King's Birthday, which is also an official holiday in our family.
So now I am eager to get back to decorating. Think I'll go put on some Elvis music (not the Christmas album, that's for the official lighting ceremony on Thursday night) and get to it. Thanks so much for reading...oops, I mean "Thank you, thankyouverymuch."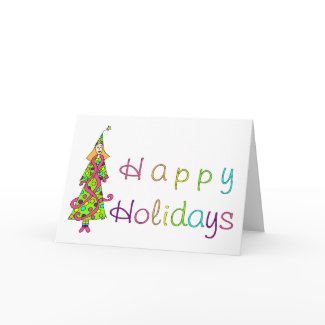 "Holiday Dressing" Happy Holidays
by
Victoreeah
View other
Vibrant Cards
"Holiday Dressing" Bright and Beautiful
by
Victoreeah
Join one of the biggest
graphic design affiliate programs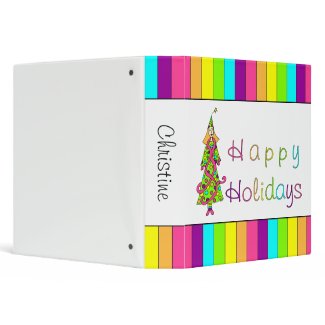 "Holiday Dressing" Happy Holidays
by
Victoreeah
Create your own
customized vinyl binder
on zazzle.com