Before I continue with what I've been learning, I just wanted to say that it is my hope that what I share on this blog is meaningful to someone besides me. That perhaps, if you are an artist, or a homeowner, or a cat mom, or a recovering perfectionist, you might see yourself in some of my daily struggles and victories and feel a little more inspired or a little less alone.
By the way, if that's ever the case, please consider leaving a short comment here to let me know. Just a simple "me too" would really mean a lot to me.
Now back to my 30 days of blogging saga:
16. I Can't Rush Creativity
My muse isn't very courteous. Sometimes in the middle of one project or another she will just abandon me without any warning. She doesn't seem to care that I have given myself a deadline or that I have a blog post to write. So I have no choice other than to take a break and wait for her to return. And that is why the universe created Pinterest.
17. What Is Good For Me Is Good For My Art
I think my art is inspired by a certain amount of chaos but I never find that to be in short supply. I'm starting to suspect that what I really need to reach my creative potential is more calm. Meditating, spending time in nature and writing my morning pages each day help me to create more calm and that is good for me and good for my art.
18. One Butterfly Is Worth A Thousand Words
19. I Actually Enjoy Cleaning
When I have time to do it right, cleaning gives me a tremendous sense of accomplishment and enjoyment. I just wish the results of those efforts could last a little longer.
20. Multitasking Is Stressful
I remember a time when multitasking was seen as something to strive for. Now there's research that shows that it actually makes you less productive and after completing this blogging challenge, I concur. My tendency to take on too much at one time was detrimental to this project. Eventually I learned that I made more progress by concentrating on just one thing at a time.
21. I'm Allowed To Set Attainable Goals
I don't know why it took me so long to figure out that there were limits to how much I could get done in one day. Again, being too ambitious was making me less effective. Choosing a more manageable creative task, like doodling, actually gave me a better sense of accomplishment.
22. Blogging (Almost) Every Day Is Good For Me
When I first thought of this Create Art Every Day blogging concept I didn't think I was ready for it and I was right. However, by going ahead and doing it anyway I learned what it would take to make myself ready to blog more regularly and more successfully in the future. Part of that lesson was that blogging four days a week was my limit.
23. I Want To Paint More
I think a part of me saw this project as a way to prove to myself that I didn't have to paint all the time to be an artist. It turns out that's true. I don't have to paint. And as soon as I accepted that I realized that I really, really want to.
24. There's Always Time For Housework
I don't paint for hours at a time. I take regular time outs to give myself a break from all of that concentration. It turns out I can get a good amount of vacuuming done during those breaks. Things just have a way of getting done when I put painting first.
25. Art Is Fun
26. Music Is Motivation
I don't always feel like creating art but I always love listening to music. Having my best sounding music player in my art studio is great motivation to get myself back there.
27. I Have Accomplished A Lot
28. Try, Try Again
Not everything I attempt is going to come together on the first try but if I keep going, eventually I figure out how to make things work.
29. I Still Have A Lot To Learn
I am always aware that there is so much I don't know. This frightens me a little but excites me even more.
30. The Best Way To Learn Is By Doing
This was a difficult truth to arrive at for the girl who never used to do anything without consulting a book, a panel of experts, some tea leaves and the wind first but after forty something years here I am. Ready to try. Not ready to be the most perfect, most put together, most popular blogger ever but ready to trust myself enough to keep going on this journey of being a slave to the muse.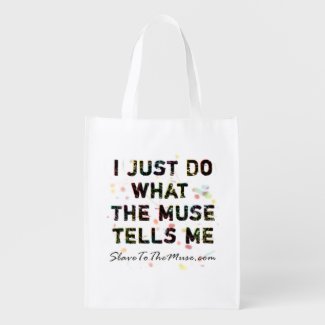 I Just Do What The Muse Tells Me Promotional Value
by
Victoriart
View another
reusable grocery bag at Zazzle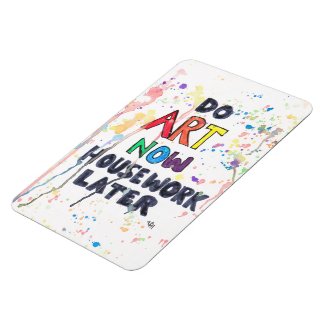 Do Art Now, Housework Later Rectangle Magnet
by
Victoriart
Find more Saying Magnets at
Zazzle
Create Art Every Day Tee Shirt
by
Victoriart
Use Zazzle's
t shirt designer