Mickey and Me
While out exploring rural Missouri the other day, my husband and I stumbled upon the small, historic town of Marceline, MO. Marceline's claim to fame is that it was the boyhood home of Walt Disney. Being a life long fan of all things Disney, I could not resist a visit to this town.
The main attraction was the Walt Disney Hometown Museum, located in the old train depot which was saved from demolition by the town members. Our guide, one of those town members who volunteers at the museum, was kind enough to tell us about the building as well as give us a tour of the main displays which tell the story of Walt Disney's presence in the town, both as a boy and his subsequent visits after achieving fame.
Two stories she told us stand out to me. The first was a cute story of how young Walt painted artwork on the side of the family home with what he thought was black paint, but turned out to be tar. Who else would mistake tar for paint but someone whose first instinct was to create with whatever materials he had on hand?
The other story was that Walt's father did not approve of his artistic endeavors, not just because of the permanent tar doodles marring his house, but because he felt that no one could earn a living by drawing silly pictures. In keeping with this belief, Elias Disney refused to spend any of the family's hard earned money on any sort of art supplies for his son. Fortunately an Aunt encouraged his talent and sent him paper and pencils so that he could continue to develop it. Hearing this put tears in my eyes and reminded me what a powerful influence one person's kindness can truly be.
Walt's father did live to see that his son's artistic and imaginative talents did indeed earn him a living.
Nice is NOT the Same as Wimpy Disney
by
disney
View other
Mouse T-Shirts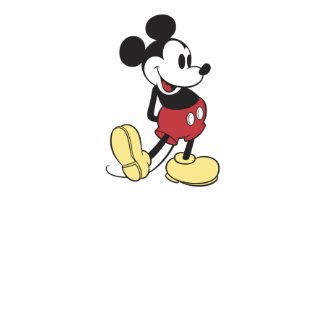 Classic Mickey Mouse
by
disney
Join Zazzle.com's
t-shirt affiliate program