Art makes me so happy sometimes. I woke up today and was instantly in a good mood because the first thing I saw was this:
It's my
"Kindred Spirits" Butterfly Photography Print
that I ordered from my own
Zazzle Photography Shop
. Previously that frame contained a print of "Lancelot And Guinevere" by Herbert James Draper. While it is one of my favorite paintings and fits with the era and style of my home, I felt that after 5 years of looking at it every day it was time for a change. I wanted something that was more modern and fresh while still fitting in with the vintage - garden - cottage style of my room. When I created this image I knew I had found it.
When this print arrived, I was a little nervous. I have always been delighted with the prints I have ordered on Zazzle and have heard nothing but rave reviews from friends and customers but this time I ordered the basic matte finish instead of the semi gloss. I made the right choice. The paper was slightly thinner than what I was used to but the printing was beautiful. The basic glass of my old frame created a glare sometimes with the other print but with the dark, matte background of this print it has more of a mirror effect. I actually love how it reflects my favorite chandelier:
If you have a framed print or other work of art that is starting to gather dust on your walls, I highly recommend switching it out for something new. It is amazing how one simple change like this can give a room a whole new feel. This print has given my room a bold dose of drama while still evoking a sense of calm and serenity. I know it will continue to remind me of the warmth and wonder I find in my garden long after winter arrives.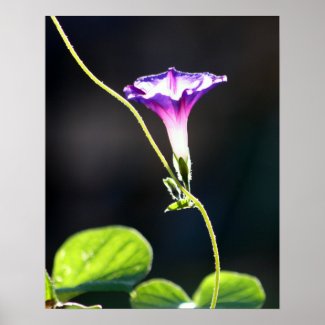 "Glory" Morning Glory Full Bleed Print
by
time2see
View other
Morning Posters