The Good Fairy in her garden
I received a few comments and questions about the photo of my fairy garden that I included in my last post. So, I thought I would tell everyone more about it here.
It all started with a visit to our local antique mall where I first saw our charming little fairy house. I fell in love with it then but thought it was a bit too extravagant and didn't know exactly what I would do with it. I half jokingly suggested to Hippie that he get it for me for Christmas and then walked away.
Fast forward to Christmas morning, where this was waiting for me by the tree:
Merry Christmas to me
The minute I saw it I realized that, of course, I would put it in the garden. I thought Spring would never get here but when it did, Hippie and I got to work clearing weeds and vines from an overgrown corner of the garden.
Hippie, banisher of vines and evil faries
I wanted the house to be elevated so we made a raised bed using a few kits from the home improvement store and literally a ton of top soil.
A garden within the garden
Then it was time to plant the garden. I made the front path using rainbow rock and lined it on either side with Irish Moss.
The Fairy garden shortly after planting
I planted two types of Veronica on either side of the house, the delicate pink and appropriate "Fairy Tale" on the left and "Purple Explosion" on the right. In front of that is Campanula "Samantha" also known as Bellflower. The trailing plants with the white flowers are Lobelia, an annual in these parts.
Fairytale Veronica
Purple Explosion Veronica
Samantha Bellflower
So far everything is doing great. It's really nice having this little garden which is easy to maintain and fun to visit even when I am feeling overwhelmed by all the work awaiting me elsewhere in the garden. It truly is a magical place.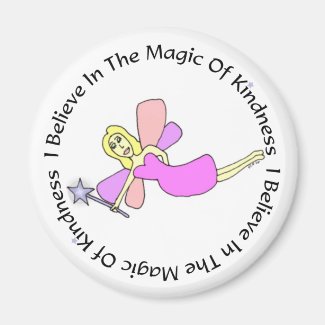 I Believe In The Magic Of Kindness Magnet
by
Victoreeah
Check out more Kindness Magnets at
Zazzle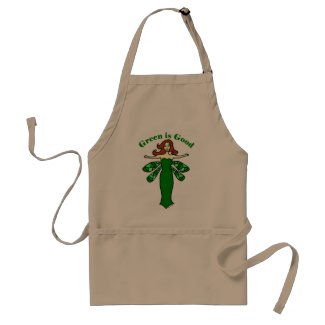 Green Is Good Fairy Apron
by
Victoreeah
Customize an apron
at zazzle.com