Framed Print of my Out Of Water Mermaid Painting
Here is a picture of my mermaid tree:
Can you see the mermaid in it or is it just me? Sometimes I see things a little differently than most people. Sometimes I feel that I am a lot different from a lot of people. Most of the time, I am okay with that. But one day a few years ago I was sitting on my porch feeling out of place. In that moment, It seemed that being an East Coast girl in a Midwest world was something akin to being a creature from another planet. That is when I saw the mermaid in the tree. At first it made me feel homesick to see her there. After all, when you see a mermaid, you immediately think of oceans and I was as far away from one of those as I was from friends, family and everything else that was in that place that I thought of as home. And yet the mermaid herself didn't seem to be missing the ocean. In fact she looked quite beautiful, and even seemed more special somehow, in the unlikely setting of the tree. I knew I had to paint her.
I painted the mermaid in the tree several times before I felt I had captured the essence of her in my "Out Of Water" painting. As I was doing this I got to know her very well and she taught me a lot of things. She taught me that being different can be beautiful and that beauty is often found in unexpected places. Perhaps most importantly, she taught me that it's up to me to make my place in this world and to make it a place I can carry with me, so that home is always wherever I happen to be.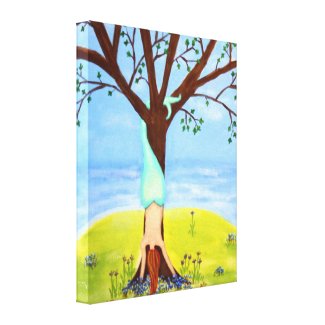 "Out Of Water" Mermaid Art
by
Victoriart
Print onto canvas
at zazzle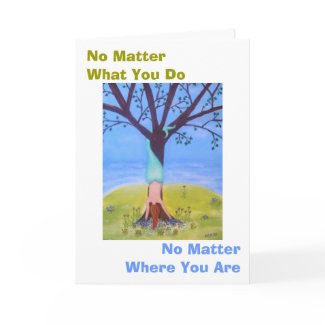 Mermaid Out Of Water Encouragement Card
by
Victoriart
View other
Mermaid Cards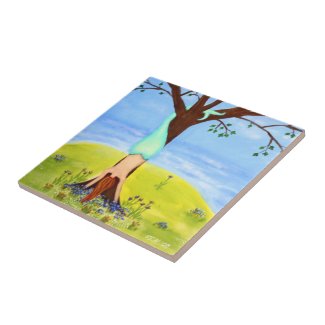 "Out Of Water" Mermaid Art Ceramic Tiles
by
Victoriart
View other
tiles
"Out Of Water" Mermaid Art Neckwear
by
Victoriart
See more Mermaid Ties at
zazzle.com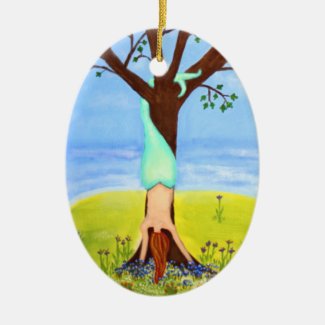 "Out Of Water" Mermaid Art Ornament
by
Victoriart
Find unique
Christmas ornaments
at Zazzle.com