Although all musical compositions are works of art, here are a few of my favorite songs that reference art or artists in one way or another:
"Michelangelo" by EmmyLou Harris
From the album "
Red Dirt Girl
"
Last night I dreamed about you / I dreamed that you were older / You were looking like Picasso / With a scar across your shoulder / You were kneeling by the river / You were digging up the bodies /Buried long ago / Michelangelo

A beautiful song that came to EmmyLou Harris in a dream. From the lyrics, I suspect it wasn't really Michelangelo she was dreaming about but her words certainly evoke a lot of imagery. I can easily imagine the scenes they describe as paintings hung on a gallery wall.
The painter stood / Before her work / She looked around everywhere / She saw the pictures and she painted them / She picked the colors from the air
While the opening lyrics above seem rather basic, it gets a lot deeper from there. To me this is a song about the triumphs and pitfalls of the creative process, of which I'm sure Neil Young knows much about.
"
If you follow every dream / You might get lost"
...I think that's something every artist needs to hear at some time or another.
"There Goes My Inspiration" by Utopia
From the album "
Utopia
"
Me and Gaugin used to party down / I was hung in The Louvre, I was Renoir's pal / Vincent Van Gogh used to joke with me / Now they don't come 'round
This name dropping little ditty by Todd Rundgren's Utopia is about an artist who has lost his muse. Who hasn't been there before?!
But I bought a paint box and some brushes/ to pass the time since you've been gone/ It's a portrait of a broken man / And the colors always run
To me, John Waite's voice is a work of art in itself. Here he sings hauntingly and beautifully of an artist attempting to pass the time with "a paintbox and some brushes" only to find himself confronted by his own inner state.
"A Case of You" by Joni Mitchell
From the album "
Blue
"
On the back of a carton coaster / In the blue TV screen light / I drew a map of Canada / Oh Canada /With your face sketched on it twice
I have read in various sources that this song is partly about Leonard Cohen and partly about James Taylor. I guess it is more of a love song than a song about art but there are those lines, "I am a lonely painter/ I live in a box of paints" and she is indeed a painter. She also wrote a song about Van Gogh: "Turbulent Indigo".
These are just the first few songs about art that sprang to my mind, I'm sure there are plenty more great ones that just haven't occurred to me. Do you have a favorite "art song"? I'd love to hear from you.
Many Moods Many Genres
by
Victoreeah
Browse
iphone
cases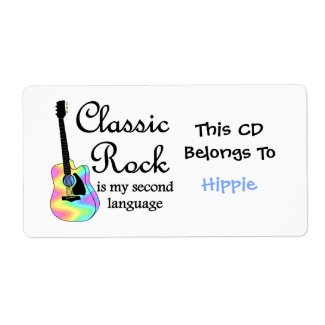 Classic Rock is my second language CD Label
by
kchippie
Browse other
Classic rock Labels