I never was very good at staying inside the lines.
I sometimes hear stories about people who decide to give up on creating art. My first reaction is always one of shock. How could they do that? How could they just stop creating? But I don't have to think very long before I remember just how difficult creating can be.
It can be difficult when you doubt yourself.
It can be difficult when you start overthinking everything that you do.
It can be difficult when you let yourself worry about what other people may think.
It can be difficult when you keep comparing what you create to what others create.
It can be difficult when you second guess your ideas so much that you never even begin to create and find yourself procrastinating all the time.
So here's what you do:
Stop doubting.
Stop overthinking.
Stop worrying.
Stop comparing.
Stop second guessing,
and, for goodness sake, (note to self) stop procrastinating!
But Never, Never Stop Creating.
And if you want something to remind you of all this, you can click here to download my Art Fairies: Never Stop Creating Coloring Page for free to color in (or not) and hang it up in your studio or use it in your art journal or give it to a friend (but no commercial use - personal stuff only, please). This design is also available as a full color poster and on other fun products at The I Believe In Art Shop.
My finished coloring page.
Okay, one more time: Never Stop Creating.
No matter what.
Peace, Love and Art,
Victoria
Art Fairies: Never Stop Creating T-shirt
by
IBelieveInArt
Create your own t shirts
online at zazzle.com
Never Stop Creating (Stop Doubting, Comparing...) Poster
by
IBelieveInArt
Check out more Victoria lynn hall Posters at
Zazzle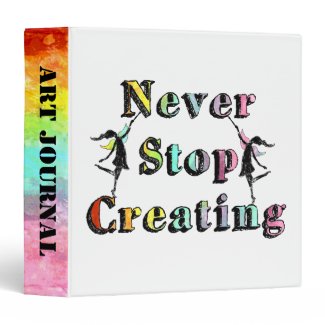 Art Fairies: Never Stop Creating 3 Ring Binder
by
IBelieveInArt
Create
custom printed vinyl binder
at zazzle.com