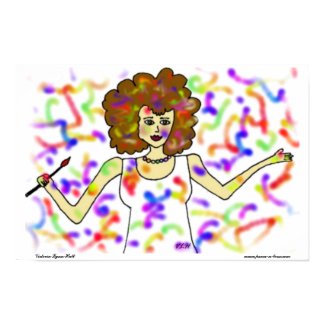 I have a large magnet that hangs on the magnetic dry erase board above my easel that reads, in bold black letters,
ALWAYS MAKE NEW MISTAKES
. I bought it years ago and I'm not sure I anticipated what those words have come to mean to me now.

As a self taught artist, I make a lot of mistakes. Some of them I come to see as happy accidents, others are just accidents. When I make one of those kind of mistakes, it is easy to get discouraged. I have made a few of them lately, so that is just how I was feeling earlier today. Then I saw my magnet.
ALWAYS MAKE NEW MISTAKES.


I did a quick inventory, were these new mistakes? Since I am working on a new project with different mediums than I am used to it was not hard to conclude that they were. Reflecting further, I was able to see how each mistake I have made has taught me how to better work with these mediums. It made me realize that making new mistakes was more or less an inevitable part of trying and learning new things.

In life, as well as in art, we are sometimes afraid to try new things for fear of making a mistake.
ALWAYS MAKE NEW MISTAKES
is a wonderfully liberating "SO WHAT?" in the face of that fear. ALWAYS MAKE NEW MISTAKES is a command that can remind us that as long as we are trying and learning new things, we are successful. In other words, as long as our mistakes are new, they are well worth making.